The role that information plays in society has increased exponentially in recent years. Information technology including artificial intelligence, big data, and IoT are revolutionizing the world, and with this information revolution convenience and efficiency are improving dramatically.
On the other hand, information systems and social institutions built on diverse and massive amounts of information sometimes cause new problems because additional elements create complications. Therefore a multidisciplinary approach to solving these problems in an integrated fashion is required.
The School of Informatics and Graduate School of Informatics at Nagoya University was founded in 2017 by faculty members from the field of informatics. We aim to nurture intellectuals with a broad view of nature, society and the environment from the viewpoint of 'information'; moreover, in a broad sense, to build information systems such as information processing systems and social systems that can create new value and solve diverse issues facing mankind.
At the School of Informatics (composed of 3 Departments), students will receive specialized education in each of the informatics fields. At the Graduate School of Informatics (consisting of 6 Departments), we conduct education to further enhance student's expertise through research. Furthermore, in order to conduct more advanced education and research, we offer a doctoral course called the Programs for Leading Graduate School with the aim of developing industry leaders and three specialized research centers.
All of our teachers and staff will continue our efforts towards the development of the informatics.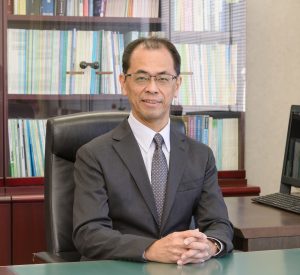 Dean EDAHIRO, Masato