Professor Toshiya Nakamura, Executive Director of Global Media Research Center (GMRC), visited Chulalongkorn University in Bangkok, Thailand on November 2nd, 2017 for an academic exchange, delivering a lecture titled "Japan's Public Diplomacy and its implication to Southeast Asia"; the event was co-hosted by Institute of Asian Studies and Faculty of Communications at Chulalongkorn University, with which Nagoya University has an academic agreement.

The lecture was attended by faculty members and students as well as diplomats such as Minister Shutaro Omura of Japan's Embassy in Thailand and Ms. Haruka Nakajima, Director of Japanese Studies and Intellectual Exchange Department at Japan Center Bangkok of Japan Foundation in Thailand.

Professor Nakamura overviewed Japan's postwar public diplomacy and illustrated reconciliation diplomacy was implemented by U.S. President Obama's visit to Hiroshima and Prime Minister Abe's visit to Hawaii. Professor Nakamura also pointed out that visits to former battlegrounds in Asia Pacific region by Emperor Akihito and Empress Michiko have contributed to Japan's current friendly relationships with those countries.

Professor Nakamura has also introduced newly established School of Informatics with slides to faculty members, students and diplomats of Japan and ASEAN countries, which attracted many questions.

GMRC and Faculty of Communications at Chulalongkorn University have started academic exchanges in 2014 when the latter firstly paid a visit to the former. In the following year, the both had a first collaborative lecture when faculty members and graduate students of Chulalongkorn University visited Nagoya University.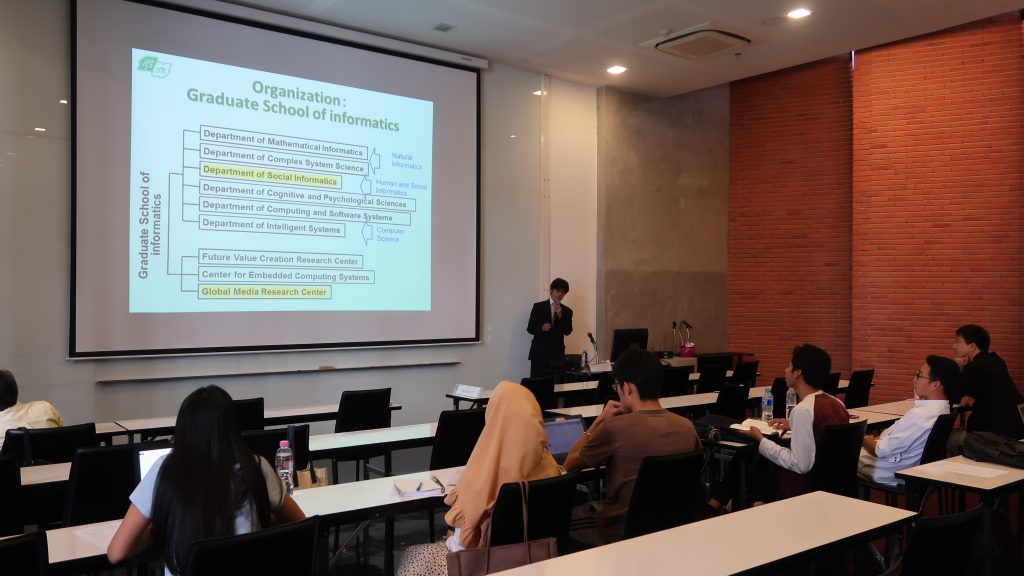 Professor Nakamura's lecture at Chulalongkorn University


* The Global Media Research Center(GMRC), GSI-NU
  http://global.si.i.nagoya-u.ac.jp/en/index.html